Like I've mentioned before, I love old homes...I live in an older home and other than my crazy plumbing issues, I love it. One drawback to older homes is the lack of natural lighting they let in. Now, of course, this isn't always the case, but for the most part they don't have the big open spaces and large windows that new homes offer. So how do you keep these older homes from feeling like they are caving in on you?
Take down the blinds. When we first moved in, I couldn't wait to get my 2-inch blinds up. I really do love the look of them, but slowly, I have taken them down to let that natural light in. Even when they are in the open position, it still hinders lots of natural light from coming. Keep the curtains shut at night if you need the privacy, but otherwise, hang the curtains so it lets in as much light as possible.
House Beautiful

This might be obvious, but keep the paint light and bright. I've got the perfect example of what not to do. When we bought our house I wanted so badly to paint our dining room (we use as an office) that brick red that everyone and their brother used in their dining room. So I did. And now I've got the new paint waiting for me to cover it up because it feels somewhat dungeon-like. Still love the color, just wrong for the amount of natural light it gets.

Keep in mind this room is about to be redone ~ and I didn't pick the paint to go with the pool table ; )

Another curtain tip...choose light and airy over dark and weighed down. Not only does it let the light in, but dark window treatments can suck up the all the light that is let in.

Light Sheer Curtains that even have a print, West Elm

Here's one I'm working on currently...filling up wall space with white matted frames. There are so many ways to do this, there are pre-made pics in the matted frame all ready to buy, you can head to Hobby Lobby and do it yourself, or you can even use the large white matted frames that people use to sign at weddings....you don't have to sign them, but I probably wouldn't get the one that says "Our special day." : )

House Beautiful

Mirrors. Not to get all nuclear physicist on y'all (not sure if that applies, but you get my drift), but find a way to place the mirrors so it actually reflects the light. I had a mirror for years above my fireplace and while it was fine there, I moved it directly across the room from my window and made such a huge difference! It literally helped light up the whole room with natural light.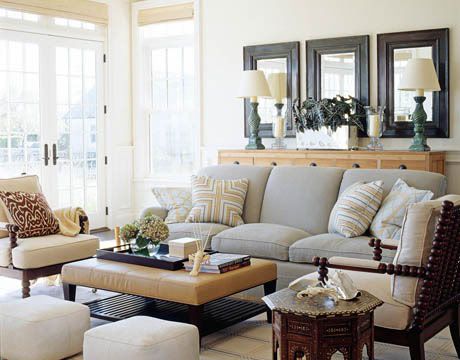 House Beautiful
Some of you might have newer airy home that needs to be "cozied" up a bit and we can address that later, but for now, hopefully this can help the rest of us light up our life a bit.