Last fall I went on the search for some occasional chairs for our living room. I knew that like my TV console, in order to get what I wanted I was going to have to look for a fixer-upper with some good bones. We have so many neutrals in our living room...tan walls, brown leather sofa, cream colored rocker. So, these chairs not only had to provide seating when we had guests, but they also had to add the punch of color that this room needed.
Since this was "pre-blogging" days for me, I don't have an exact before pic of my chairs, but they were something ugly like this....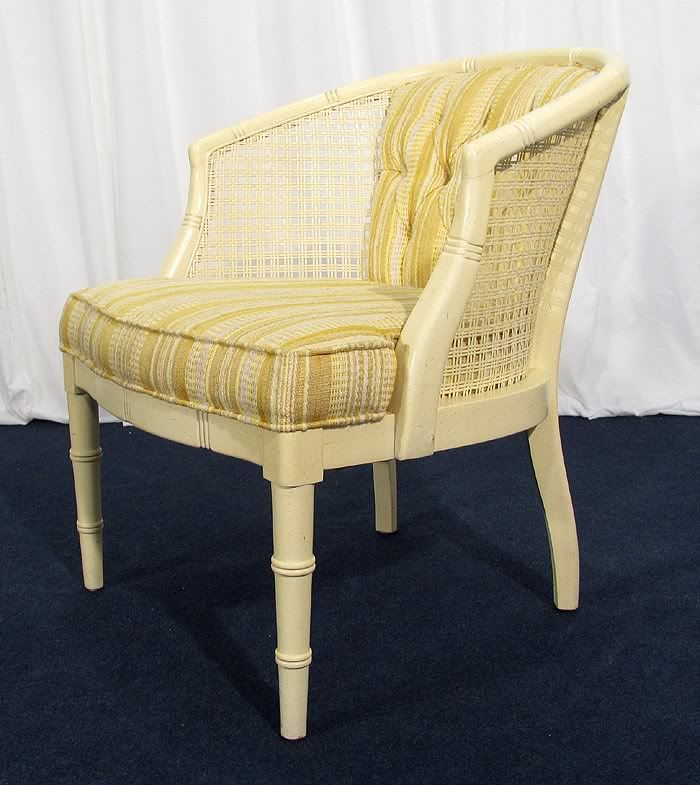 Mine started with a basic wood finish and some hideous 80's blue floral upholstery. I'm sure we can all visualize something like that from maybe a grandma's house or something. ; ) Here are the steps I took for my transformation.
I checked thrift stores and CL (Craig's List) every chance I got for a couple of weeks. I kept either finding things I liked but were too expensive for the work they needed (some people really think a lot of their junk, don't they?? ; )) or they just weren't quite right. When I found this set on CL, I jumped immediately. I usually try to talk a price down, but $30 for both was too good to mess with.
Found some fabric I loved at Hobby Lobby in the upholstery fabrics....love the color it brings and I'm hoping to add some reds and oranges and maybe a bit of green.
Got them home, sanded all the wood parts down...just enough to get the sheen off.
Spray-painted them with primer and then a satin black (about 2-3 coats).
Took off all the upholstery and watched carefully as I did it. Reupholstering was new to me so I wanted to see how they were constructed.
The chair without fabric on the back was first since there was no piping, I just cut the fabric to size and began stretching and stapling the fabric underneath the chair. I did it side by side starting with the front, going from the middle to the ends. The other chair was a bit more complex. I cut the fabric to exact size, stapled it, and then added the piping with a hot glue gun. I was able to salvage the piping insert from the previous chair and I cut a long strip to hot glue around it.
Ready to use. : )
Finished results: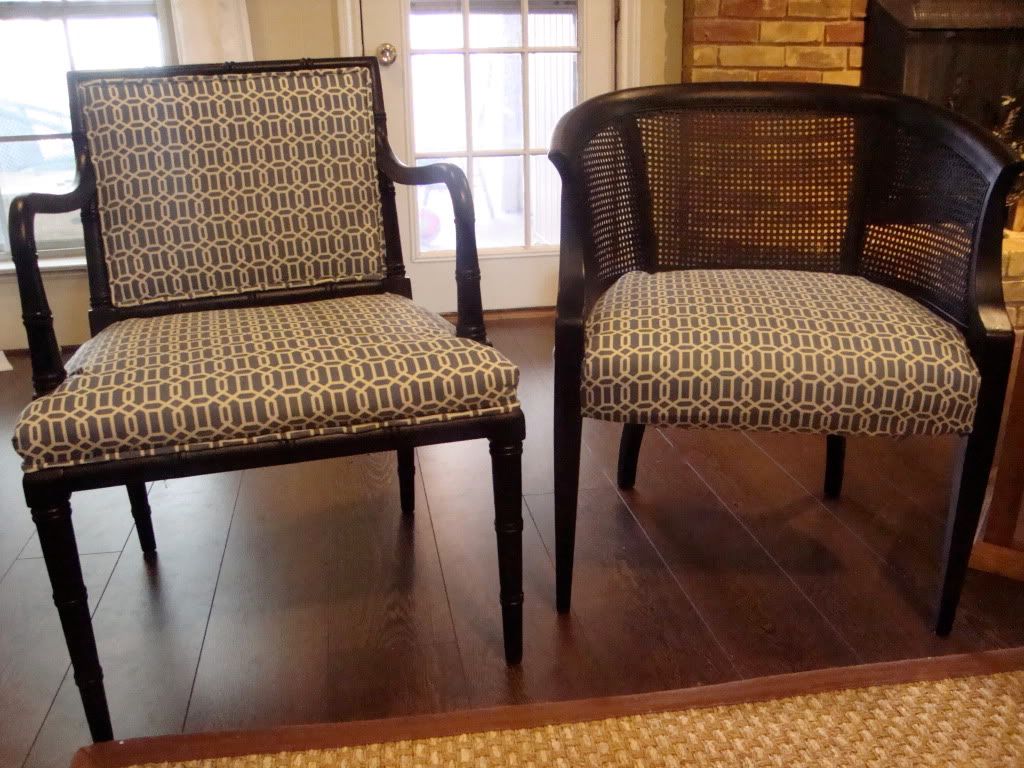 So, for under $50, I have my extra seating I needed and a bit more color added to my neutral living room...and although professional upholsterers maybe cringing at my methods right now, they look great and have held up so well!
What do y'all think??