Like most women, I love shoes. Always have and probably always will. And although my specifications have changed in what makes a great shoe since my pre-kids days, I still get giddy when I see a pair I love. So here are my top 5...
TOMS. Really, can you say anything bad about a shoe that's under $50, comfortable, versatile, and that gives back? In case you aren't familiar with this great company, for every pair bought TOMS donates a new pair to a child in a need. They come in men's, women's, and kid's. This gray pair is exactly what I have and have worn almost everyday for the past 5 months.
Cowboy boots. Like the pair you can wear to work on the ranch or with a dress. My Christmas present this year was a pair of gorgeous Lucchese boots (my husband got them on Ebay....which I'd highly recommend since they are a bit on the pricey side). I've already gotten so much wear out of these...with jeans and dresses. My grandpa was a rancher so I thought I had to have these to keep me true to my roots as well....and I live in Texas. With both of those reasons, I needed a good ol' pair of boots.

Date night in my boots ( sorry about the smudge on the pic...my camera got a little 3-year-old's fingerprint)

Flip-flops. All kinds...cheap $2 ones for the pool, nicer ones for the other 23 hours a day we are not at the pool. I had a similar gold pair last summer that got worn just about everyday...they looked great with shorts or a dress. I literally wore them out and am currently looking for a replacement!
Asics. My husband is a Nike guy, and while I love their active wear, I would rather work out in Asics any day. I know this is probably a personal preference, but I just love the way they mold to my feet. I love the Kayanos, and while they are their top-of-the-line model, you can usually find last season's model at a more affordable price.
I should have chosen more than 5. : ) I love a good heel, but my stage of life currently is calling for something a little more practical than that. My latest everyday fave are my Sperry Top-Siders. I remember back in the 80's when these were popular, and after wearing mine, I'm wondering why they ever went out of style. They are cute, kinda preppy, and oh so COMFORTABLE! They come in so many different styles and colors...which if you are like me and can only choose one may pose a problem. : ) I have this navy pair, but the classic brown and even the metallic gold are pretty great.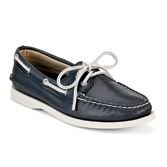 So, what would be on your list?